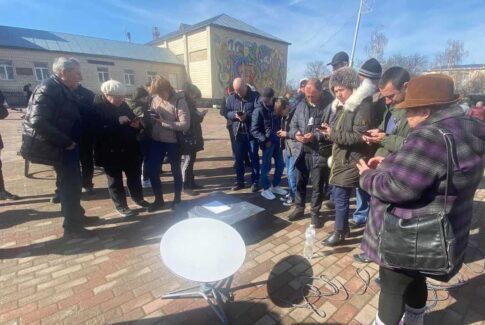 The NGO "Ukrainian Code" needs your help to stay in touch with Ukrainians who are waiting for our humanitarian aid all over Ukraine.
Starlink satellite Internet in Ukraine played an important role in the rapid restoration of communication in critical places and de-occupied territories. For example, when a mobile communication system or Internet cables are damaged or destroyed as a result of missile attacks.
Constant problems with electricity and the lack of Internet significantly complicate the volunteer activities of brave people in Ukraine.
We have to fix it and help people 24/7.
We need your financial help to purchase Starlink terminal
left to collect to the goal
*fundraising information updated: 29.11.2022
---
You can make your donation for any amount with the following details:
You can donate via PayPal using our email address:
ukrainian.code@gmail.com
Here's how to send a donations from your PayPal account:
1. Go to Send & Request, enter the email address: ukrainian.code@gmail.com and click Next.
2. Select your payment type.
3. Enter the amount you want to donate, select the currency, and add a message (optional), and click Continue.
4. Review your payment information and click "Send Payment Now"
The report on the use of collected funds will be posted on our website. All collected funds will be spent for realization of the project and for the project related purposes.
SUPPORT UKRAINE!
We live under constant shelling of civilian objects, most of which are without electricity, water, heat and communication with relatives. Shelters and bomb shelters have become a habitual place for all citizens of Ukraine, but it will not break us. For more than 9 months, Ukrainians have been living with only one wish – «For peace in Ukraine!»
Who do we help?
We provide essential products to different vulnerable groups of people: 
 Elderly people;
 People with disabilities;
 Pregnant women;
 Women with kids.
What aid do we provide?
 Grocery sets:
Drinking water and grocery sets for those who cannot afford it or cannot go & buy it
 Medicines:
Essential medicines that are hard to find in pharmacies
 Household goods:
Necessary goods that people cannot buy nearby due to air attacks or lack of working shops
Last modified: 28 Листопада, 2022